Jingdong Automobile and Huasheng Rubber Co create Jing'antu Commercial Tire
---
  Recently, JD Auto and Huasheng Rubber officially signed a strategic cooperation agreement through the headquarters in Beijing and Guangrao in the form of cloud signing. Chen Haifeng, Vice President of JD Auto Business Unit and General Manager of JD Auto's Omni channel Service Business Department, and Zhao Ruiqing, General Manager of Huasheng Rubber Group attended the headquarters in both cities, jointly witnessing the signing of the contract between Guo Yang, Director of Commercial Vehicle Products of JD Auto and Yan Haiming, Deputy General Manager of Huasheng Rubber Group and Director of Commercial Tire Sales on behalf of both companies. On the same day, Jing'antu commercial vehicle tires, a private brand of JD Auto, were successfully rolled off the production line in Huasheng Rubber Production Base, and the launch of Jing'antu commercial tires became another milestone for JD Auto to further develop the commercial tire track.
  At the signing site of the two cities on the same day, the attendees also included Long Yi, general manager of JD Automotive Innovation Business Department, Wang Yejing, director of commercial tire R&D of Huasheng Rubber Group, Li Xinjian, deputy general manager of Huasheng Rubber Co., Ltd., Wei Lianguo, director of the marketing department of Huasheng Rubber Co., Ltd., and others.


  Signing site of JD Auto and Huasheng Rubber Cloud
  Jing'antu brand drives into the commercial tire track, adding a new chapter to Jingdong's automobile layout
  After years of rapid development and accumulation,JD Auto has deeply understood the pain points and demands of hundreds of millions of car owners.As JD Auto's own strategic brand,Jing'antu brand has won recognition and praise from hundreds of millions of car owners in the field of car products through strictly selected high-quality goods and considerate after-sales protection.In 2020,it will usher in a new upgrade of car products from research and development,production to ultimate service.The investment of Jing'antu brand in commercial vehicle tyres this time shows JD Motor's determination to devote itself to the commercial tire track.
  For JD Auto,this strategic cooperation will give full play to its powerful digital,intelligent and refined operation capabilities,take Jing'antu commercial tires as the carrier,cooperate with the vast number of dealers and retail stores in the industry,and promote the construction of a new ecology of commercial vehicle tires through a new business model.For Huasheng Rubber,it will give full play to its product development and manufacturing capabilities to provide high-quality tire products and full life cycle services.Through the integrated offline high-density installation service network,the two sides provide hundreds of millions of car owners and logistics enterprises with convenient,professional and more guaranteed high-quality products and services.
  Starting from Jing'antu commercial tire cooperation,the two sides will also conduct more extensive and in-depth cooperation in the passenger car tire business in the future.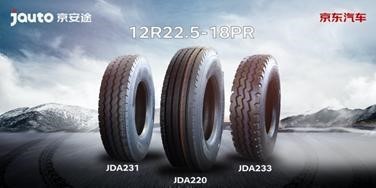 Jing'antu commercial vehicle tire
  Deepen the field of commercial vehicles and help the development of the industry
  In the era of continuous changes in the industry and increasing user demand,JD Auto,as the leading automobile service brand in the domestic industry,has continuously cultivated the ability of omni channel goods and services from online to offline.In the field of commercial vehicles,JD Automotive is now deeply engaged in the commercial vehicle and aftermarket,building a double wheel growth model based on the physical+service supply chain,and is committed to becoming a full life cycle solution provider for commercial vehicles with hundreds of millions of owners and enterprise users as the center by establishing three major systems in the field of commercial vehicles:omni channel distribution services,aftermarket trusteeship services,and customized value-added services.
  In the future,JD Auto will continue to work with industry partners in the field of commercial vehicles to create a win-win situation and contribute new value to the industry and ecological development.
News
undefined